Dealer / Distributor of: Computerized Mat Cutters
New Framing Equipment: Mat Cutter, Glass Cutter, Multi Material Cutter, Computerized Mat Cutters, CMC
We also buy & sell pre-owned picture framing equipment. We will help you sell your used framing equipment.
Do you have Questions? Feel free to our office at 216-663-7400, M-F, 10AM-5PM EST or Email us at info@skylinepictures.com
If you are looking for any Valiani Brand not appearing in our catalog, call us for catalog or further information.
Section 3: Computerized Mat Cutters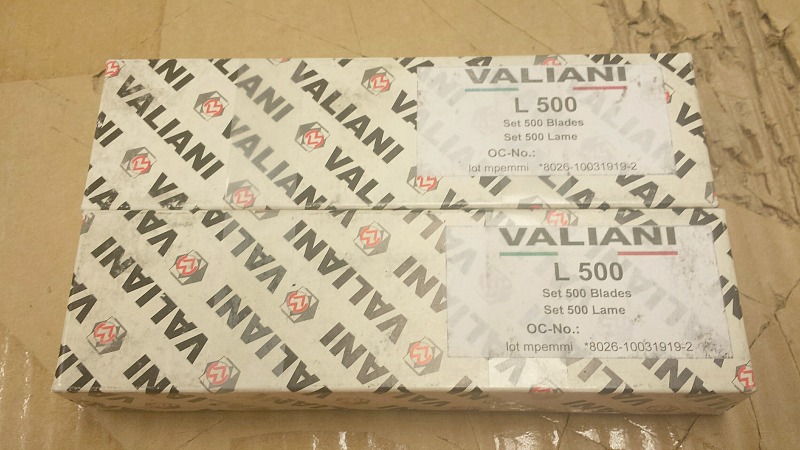 NFE-234 Valiani L500 Blades
There are two boxes available.
(Regular Price $500 per Box)
*Special This Month!*$ 449 per Box
AIM-5-6-16
330-405-9421, M-F, 10AM-5PM EST
Return to Computerized Mat Cutters
We Accept: Visa/MasterCard/Discover/Debit/Certified Check or Money Order
Produced By: A.I.M. Enterprises, Inc. Phone: 330-405-9421
(c) Copyright 2016 All rights in all media reserved.
Valiani L500 CMC Mat Cutter Replacement Blades, Valiani Brand CMC Computerized Mat Cutter, Computerized Mat Cutter, Valiani CMC Computerized Mat Cutter, Information on How to Use a Computerized Mat Cutter, Directions to Use a Computerized Mat Cutter, Computerized Mat Cutter Repair Center, Buy New Framing Frame Shop Equipment Store, Website to Sell Selling List Your Framing Equipment, AIM Enterprises Inc Dealer Distributor Supplier of Framing Equipment, Buy New Framing Frame Shop Equipment Store, Selling Sell Your Framing Equipment, AIM Enterprises Inc Dealer Distributor Supplier of Framing Equipment AIM Enterprises Inc Dealer Distributor Supplier of Used Framing Equipment Buy Used Framing Frame Shop Equipment Store, Selling Sell Your Framing Equipment, AIM Enterprises Inc Dealer Distributor Supplier of Used Framing Equipment Phone 216-663-7400