Used Framing Equipment: Mat Cutters, Moulding Cutting & Joining Equipment, Mounting Presses, Hand Tools
We buy & sell pre-owned picture framing equipment. We also help you to sell your used framing equipment, and help you save on equipment that you may need. All Items are sold "As Is". Although we strives get obtain the best information from the seller, AIM is not responsible from inaccuracies provided to us by seller. It is the responsibility of the buyer to crosscheck information with seller or manufacturer regarding descriptions that appear in this catalog.
Do you have Questions? Feel free to our office at 330-405-9421, M-F, 10AM-5PM EST or Email us at info@skylinepictures.com
Section 2: Frame Moulding Cutting & Joining Equipment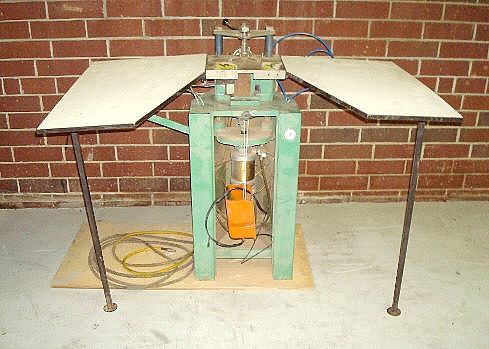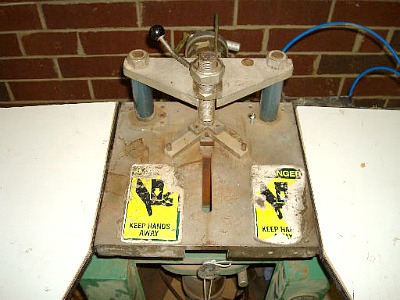 UFE-1412 Brevetti AUT-82 Auto-Nailer
This machine is in Good Working Condition, S/N:E24, CS-784-HC
Price $995
"From the Seller:"

- Automatic nailer pneumatically presses fasteners into the bottom of mouldings
- Hold-down clamp pad adjusts automatically to work-piece height
- Fasteners come on a coil from 10,000 to 20,000/coil, (varies with sizes)
- 200 to 300 complete frames per hour, (varies according to size)
- Type NR nail driver, (two boxes of 12 mm fasteners included)
- Includes optional auxilary work tables and pneumatic glue dispenser
- 38" x 24" x 48" approx. overall dimensions and weighs approx. 210 lbs.
This item can be picked up in North Carolina or shipped for an additional fee by a freight company. Shipping is not the $6.50 default on the order page.
Tom/Pruitt-NC-8-1-11
Return to Frame Moulding Cutting & Joining Equipment page #92
We Accept: Visa/MasterCard/Discover/Debit/Certified Check or Money Order
Produced By: A.I.M. Enterprises, Inc. phone: 330-405-9421
(c) Copyright 2011 All rights in all media reserved.
Used Brevetti AUT-82 Auto Nailer, Ebay Craigslist Used Brevetti AUT-82 Auto Nailer for Sale, Pruitt Brevetti AUT-82 Auto Nailer Manuals Manual, Brevetti Saw Demonstration Video Demo Videos Pictures Photos, Used Picture Framing Equipment for Sale, Brevetti Prisma CE Maxi, Pre-Owned Used Brevetti Breveti Maxi Frame Mitre Saw to Cut Moulding Frames for Frame Shops Art Galleries, Framing Tools, Used Parts Part, Buy Used Framing Frame Shop Equipment Store, Selling Sell Your Framing Equipment, Buy Used Framing Equipment, Discount Framing Equipment, AIM Enterprises Inc Dealer Distributor Supplier of Used Framing Equipment, Pruitt Machinery