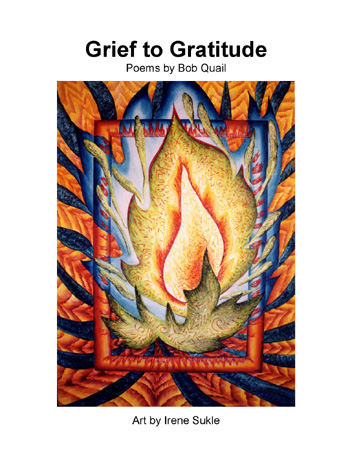 This book contains the creative art of Irene Suckle-and chronicles her Battle with cancer, her Death and her husband, the poet Bob Quail, trip through grief to GRATITUDE. It is a painful and enlightening journey that proves that true love does not end at the grave - It is offered to honor their unique love, creativity and passion; and to help others heal who may have to walk a similar path. This book is helping to sponsor a memorial art scholarship at the school in Ms Sukle's name where Irene was a Nationally Certified Art Teacher for 42 years.
Book: "Grief to Gratitude" Order This Item # GTG-1 $20
The Artwork Catalog of Irene Sukle
We Accept: Visa/MasterCard/Discover/Debit/Certified Check or Money Order
Produced By: A.I.M. Enterprises, Inc. Phone: 330-405-9421
(c) Copyright 2011 All rights in all media reserved.
Irene Sukle Artist Artwork Paintings, Books on Grieving Handling Dealing with Grief, Grief to Gratitude Book Irene Sukle Sukel Artwork Art Artist Prints, Grieving Process Self Help Book to Help through grief of loved one husband wife spouse, The Wildlife Abstract Art of Irene Sukle Sukal, Author Bob Quail, Irene Sukle Memorial Art Scholarship