Dealer / Distributor of: Gravograph Mechanical and Laser Engravers
New Framing Equipment: Gravograph Mechanical and Laser Engravers
We also buy & sell pre-owned picture framing equipment. We will help you sell your used framing equipment.
Do you have Questions? Feel free to our office at 330-405-9421, M-F, 10AM-5PM EST or Email us at info@skylinepictures.com
If you are looking for any Valiani Brand not appearing in our catalog, call us for catalog or further information.
Section 6: Mechanical and Laser Engravers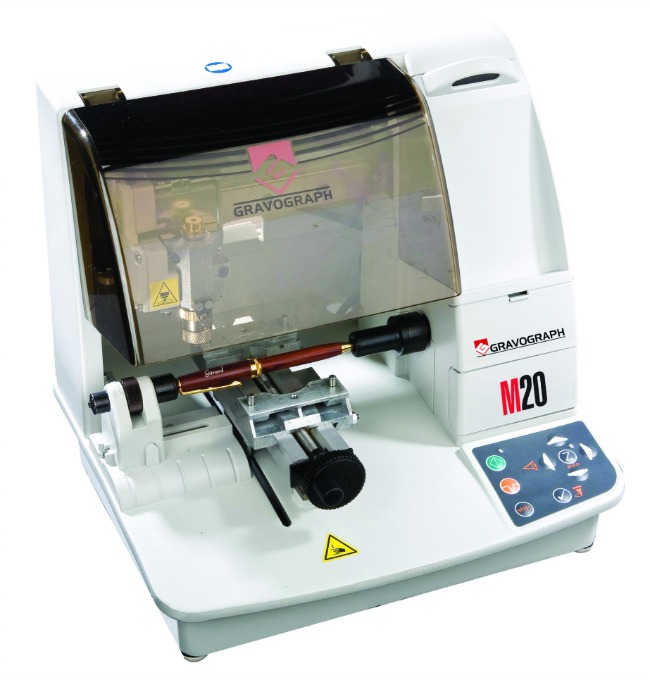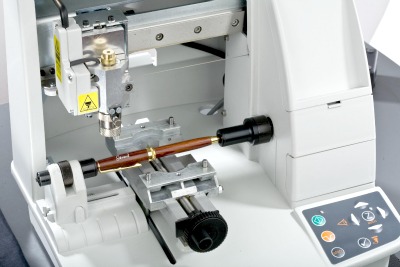 LE-1 Gravograph Mechanical Engraving / M-20 Series
A portable and affordable engraving marking system that's convenient, easy-to-operate and can replace your manual engraving machine or the need to outsource your marking tasks.
IDEAL FOR:
• Watches • Bracelets • Pens •
• Gift items (cuttlery) • Pet tags • Badges •
• Small signs • Industrial tags • Identification plates…
Compact and quiet... can easily be set up in your shop, office or retail establishment

Portable: only requires 1 square-foot of counter space (not including space for computer), weights only 22 lbs.

Complete system includes engraving machine and software, tools, accessories and tutorial

The machine is delivered with its software

Gravostyle Explorer

that incorporates many functions and fonts to permit you easy personalizing of items

Zero Maintenance: no belts to change

Easy clamping of plates and other objects with self-centering vise

Integrated vise and pen attachment provides quick change-over, increasing productivity

Depth nose allows for constant engraving, particularly on uneven surfaces

Integrated

red

laser pointer

allows you to simulate the job - minimizing errors and waste

Integrated Auto-Z: effortless cutter setup

Open access to the object to be engraved

Overall machine size: 12.2 x 13.4 x 12.2 in. (310 x 340 x 310 mm)

Engraving area: 4 x 4 inches (102 x 102 mm) in the red beam point & shoot mode. 4 x 5 inches (102 x 127 mm) in the XL mode of operation
$ Call for Pricing
330-405-9421, M-F, 10AM-5PM EST
Return to Laser Engravers Page #1
We Accept: Visa/MasterCard/Discover/Debit/Certified Check or Money Order
Produced By: A.I.M. Enterprises, Inc. phone: 330-405-9421
(c) Copyright 2013 All rights in all media reserved.
Gravograph Mechanical Engraving M20 Series Laser Engraver, Gravograph Laser Engravers, Small Rotary Pen Engraving Machines, Engraving for Watches, Braclets, Bagdes, Pet Tags, Small Signs and Industrial Tags Gravograph Mechanical Engravers, Selling Sell Your Framing Equipment, AIM Enterprises Inc Dealer Distributor Supplier of Framing Equipment AIM Enterprises Inc Dealer Distributor Supplier of Used Framing Equipment Buy Used Framing Frame Shop Equipment Store, Selling Sell Your Framing Equipment, AIM Enterprises Inc Dealer Distributor Supplier of Used Framing Equipment Phone 330-405-9421