Dealer / Distributor of: Gravograph Mechanical and Laser Engravers
New Framing Equipment: Mechanical and Laser Engravers
We also buy & sell pre-owned picture framing equipment. We will help you sell your used framing equipment.
Do you have Questions? Feel free to our office at 330-405-9421, M-F, 10AM-5PM EST or Email us at info@skylinepictures.com
If you are looking for any Valiani Brand not appearing in our catalog, call us for catalog or further information.
Section 6: Mechanical and Laser Engravers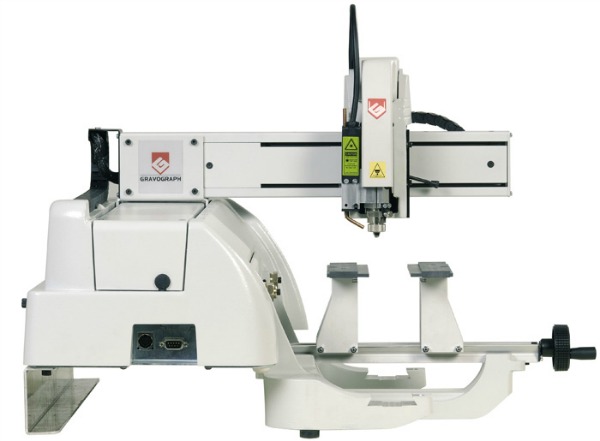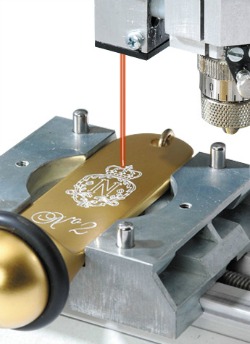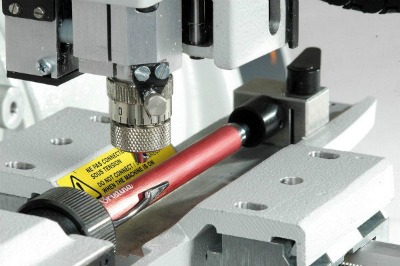 LE-2 Gravograph Mechanical Engraving / M-40 Series
You asked for a computerized engraving system that was easy-to-use, versatile and economical.
With features such as a 12 x 8" engraving area, super simple software, small machine footprint and excellent engraving quality, the M40 computerized engraving system gives you what you need to run your retail business. Features include:
IDEAL FOR:
• Trophy Plates • Plaques • Corporate Awards
• Plastic or Metal Badges •Jewelry • Gift
• Lighters • Pens • Signage
An affordably-priced, compact computerized engraving system that's easy-to-use, fast and quiet.

Delivered standard with

Gravostyle

engraving software - easy yet professional.

12" x 8" engraving area enabling you to engrave a wide range of objects.

Error-free engraving-simulate your job before you engrave, using the integrated red laser pointer - no measuring required.

Effortless cutter setup-integrated automatic Z reference to sense the material surface.

Patent-pending hollow shaft spindle motor.

Professional range of accessories for clamping a wide variety of objects (pens, lighters, plaques, badges, etc.).

Small footprint - The small footprint of this computerized engraving systems allows the user to place the machine almost anywhere, even on desktops and retail counter space.
$ Call for Pricing
330-405-9421, M-F, 10AM-5PM EST
Return to Laser Engravers Page #1
We Accept: Visa/MasterCard/Discover/Debit/Certified Check or Money Order
Produced By: A.I.M. Enterprises, Inc. phone: 330-405-9421
(c) Copyright 2013 All rights in all media reserved.
Gravograph Mechanical Engraving M40 Series Laser Engraver, Gravograph Laser Engravers, Small Rotary Pen Engraving Machines, Engraving for Watches, Braclets, Bagdes, Pet Tags, Small Signs and Industrial Tags Gravograph Mechanical Engravers, Selling Sell Your Framing Equipment, AIM Enterprises Inc Dealer Distributor Supplier of Framing Equipment AIM Enterprises Inc Dealer Distributor Supplier of Used Framing Equipment Buy Used Framing Frame Shop Equipment Store, Selling Sell Your Framing Equipment, AIM Enterprises Inc Dealer Distributor Supplier of Used Framing Equipment Phone 330-405-9421