Dealer / Distributor of: Gravograph Mechanical and Laser Engravers
New Framing Equipment: Gravograph Mechanical and Laser Engravers
We also buy & sell pre-owned picture framing equipment. We will help you sell your used framing equipment.
Do you have Questions? Feel free to our office at 330-405-9421, M-F, 10AM-5PM EST or Email us at info@skylinepictures.com
If you are looking for any Valiani Brand not appearing in our catalog, call us for catalog or further information.
Section 6: Mechanical and Laser Engravers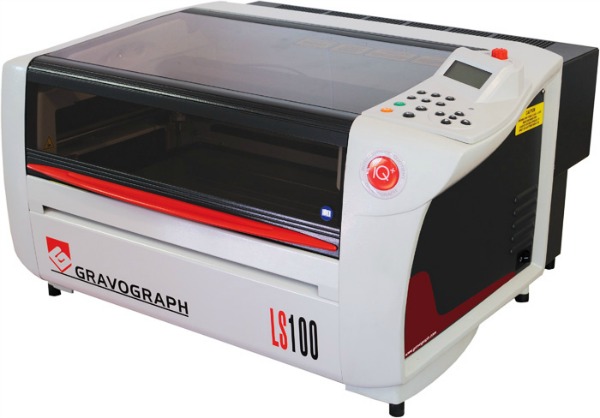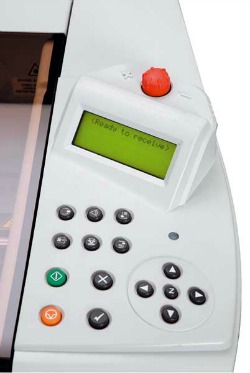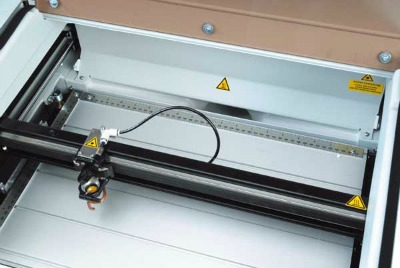 LE-3 Gravograph Laser Engraving / LS100 CO2 Series
This versatile and rugged CO2 laser engraver, powered by a 30W laser source, has an 18" x 12" engraving area. With its innovative and compact design, it can be easily set-up in your shop, office or retail outlet.
It is the ideal solution for marking, engraving or cutting a wide variety of materials such as plastics, wood, acrylic, coated metals, glass, leather… and many more
IDEAL FOR :
Trophies and Awards • Rubber Stamps • Name Tags • Gift Items • Key Rings • Glass/Crystal Engraving • Metal Parts •
Small Signage • Paper Products
With its intuitive interface, the optional

GravoStyle 7 (Graphic Level) software package

is user-friendly and makes job creation easier than ever. It allows photos to be engraved very easily.

Parameters are saved with the job and the advanced functions provide extended capabilities for specific engraving requirements (bar codes, matrix function, rubber stamp wizards, dials, etc.)

Standard front access provides effortless loading and adjusting of bulky objects, which means it's ergonomic for daily use while ensuring CDRH Class 2a safety level.

With easy to understand functions, the LCD control panel enhances efficiency and productivity thanks to its short-cut keys.

Optional accessories like a cylindrical attachment, vector cutting table, several exhaust options and integrated air compressor provide the tools to satisfy your customers' needs and expand your business.

Red-aiming beam allows for quick set-up by performing a trial run before engraving object.

Auto-focus feature cuts down production time by automatically setting the focus to the object that you are engraving on your CO2 laser engraver, even in hollow areas.

Fume and dust exhausts range and air assist improves processing of certain materials like rubber, leather, and acrylic, preserving working environment.
$ Call for Pricing
330-405-9421, M-F, 10AM-5PM EST
Return to Laser Engravers Page #1
We Accept: Visa/MasterCard/Discover/Debit/Certified Check or Money Order
Produced By: A.I.M. Enterprises, Inc. phone: 330-405-9421
(c) Copyright 2013 All rights in all media reserved.
Gravograph Laser Engraving LS100 CO2 Series Laser Engraver, Gravograph Laser Engravers, Small Rotary Pen Engraving Machines, Engraving for Watches, Braclets, Bagdes, Pet Tags, Small Signs and Industrial Tags Gravograph Mechanical Engravers, Selling Sell Your Framing Equipment, AIM Enterprises Inc Dealer Distributor Supplier of Framing Equipment AIM Enterprises Inc Dealer Distributor Supplier of Used Framing Equipment Buy Used Framing Frame Shop Equipment Store, Selling Sell Your Framing Equipment, AIM Enterprises Inc Dealer Distributor Supplier of Used Framing Equipment Phone 330-405-9421