Dealer / Distributor of: Gravograph Laser and Mechanical Engravers
New Framing Equipment: Gravograph Mechanical and Laser Engravers
We also buy & sell pre-owned picture framing equipment. We will help you sell your used framing equipment.
Do you have Questions? Feel free to our office at 330-405-9421, M-F, 10AM-5PM EST or Email us at info@skylinepictures.com
If you are looking for any Valiani Brand not appearing in our catalog, call us for catalog or further information.
Section 6: Mechanical and Laser Engravers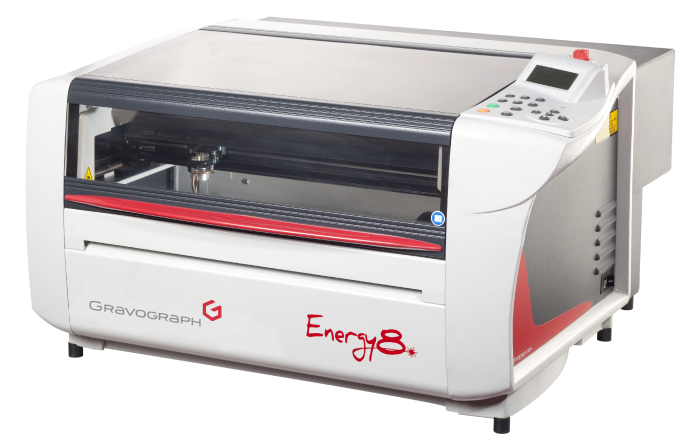 LE-5 Gravograph Laser Engraving / Energy 8
Are you looking for industrial strength laser engraving equipment for your company or business? The Energy 8 is the laser solution designed to help you grow your business.
Laser Source - rated @ 10,000 hours MTBF o Easy to replace source – 15 minute replacement time. o Chiller device is included to control over temperature and under flow laser water cooling to assure consistant engraving and cutting.

Material Calibration in Driver o Take the guesswork out of setting the right speed and power for new materials o Creates engraved grid to choose optimal settings

Includes Laserstyle Discovery Engraving Software Designed For Lasers o Easy and efficient matrix layouts

Saves power and speed settings with job saves for fast and efficient job retrival o Can use 3rd party software like Corel Draw, Adobe illustrator, and others.

Ergonomic Design

Lift the cover and the work table is right in front of you for easy loading and unloading o Can operate from a chair

Raised easy to use LCD readout to prompt you for next job o Stores up to 100 jobs in the machine for efficiency

Red Beam Laser Pointer to speed up set-up time on difficult to engrave work o Point and shoot layout to make job layout a snap

Cast construction for maintaining accuracy and a long life o Built to Gravograph Specifications for high quality and long life – Best in its class.

4 Z-Axis lead screws to maintain table stability and focus in all 4 corners of engraving area

Supports up to 33 lbs

Lit interior for easy viewing

Driver allows you to laser from top to bottom, or bottom to top o Bottom to top lasering, keeps lasered area clean, requiring less cleanup when job complete

Wide heavy duty belts for long life, and minimize down time (cost).

Cylindrical attachment availiable. Holds objects up to 5.1"Diameter with 7" Max Tilt.

Plumbed for air assist (Already integrated in laser) - just need to add compressor o Air assist reduces flame-up

5.71" Z-Axis clearance for holding larger pieces

Mirrors and lenses easy to access for quick cleaning

90 day Onsite and 1 year parts warranty by Gravograph Technicians
$ Call for Pricing
330-405-9421, M-F, 10AM-5PM EST
Return to Laser Engravers Page #1
We Accept: Visa/MasterCard/Discover/Debit/Certified Check or Money Order
Produced By: A.I.M. Enterprises, Inc. phone: 330-405-9421
(c) Copyright 2014 All rights in all media reserved.
Gravograph Laser Engraving Energy 8 Series Laser Engraver, Gravograph Laser Engravers, Small Rotary Pen Engraving Machines, Engraving for Watches, Braclets, Bagdes, Pet Tags, Small Signs and Industrial Tags Gravograph Mechanical Engravers, Selling Sell Your Framing Equipment, AIM Enterprises Inc Dealer Distributor Supplier of Framing Equipment AIM Enterprises Inc Dealer Distributor Supplier of Used Framing Equipment Buy Used Framing Frame Shop Equipment Store, Selling Sell Your Framing Equipment, AIM Enterprises Inc Dealer Distributor Supplier of Used Framing Equipment Phone 330-405-9421