Used Framing Equipment: Mat Cutters, Moulding Cutting & Joining Equipment, Mounting Presses, Hand Tools
We buy & sell pre-owned picture framing equipment. We also help you to sell your used framing equipment, and help you save on equipment that you may need. All Items are sold "As Is". Although we strives get obtain the best information from the seller, AIM is not responsible from inaccuracies provided to us by seller. It is the responsibility of the buyer to crosscheck information with seller or manufacturer regarding descriptions that appear in this catalog.
Do you have Questions? Feel free to our office at 330-405-9421, M-F, 10AM-5PM EST or Email us at info@skylinepictures.com
Section 3: Mat Board / Glass Cutting Equipment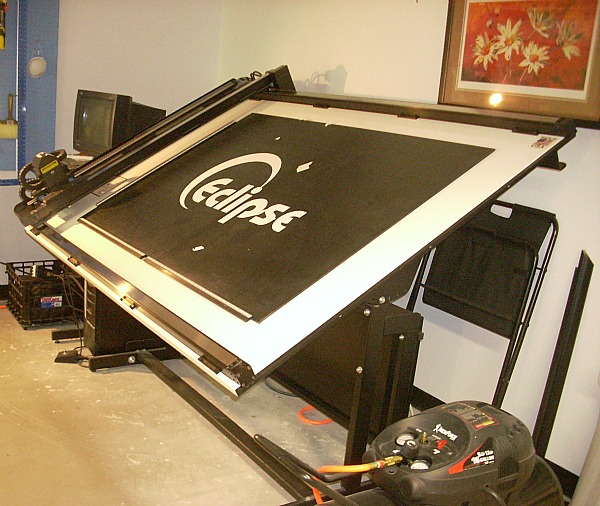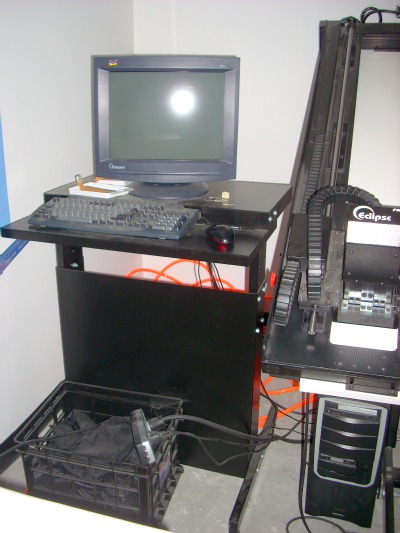 UFE-366 Eclipse Pro 40x60" CMC Mat Cutter
This unit is in Good Working condition.
Eclipse Pro Matcutter Model:EMK-40606 Serial: 20624506704
Computer: Optiquest Q71 / MYKC 06049249 002
Monitor: View Sonic Q71 / Model: UCDTS22355-8M / Mouse:s/n LZB 40862008 / Keyboard: KFKEB9HY
Serial P0A041800220
Retail List Price $24,000+
Item # UFE-366 $ 8,000
Additional Service / Maintenance / Training Agreement Available for Additional Fee. Call 216-663-7400 for details.
Below is information for the Eclipse Pro from Manufacturer's website:
Complete mat cutting solution includes:
• Mat Designer software
• Solid Steel Construction
• Modular Design
• Mat Clamping System
• Brushless Servo Motors
Hardware Features
• Durable steel design
• Independent cylinder air clamp system
• Cut speed of 20 inches per second (ips)
• Cuts any type of matboard including 8-ply, 6-ply, paper, rag, suede, linen, color core, metallic matboard
Software Features
•Nesting enables you to layout and cut multiple mat designs on one sheet of matboard. Nest mat designs inside the openings of larger designs to reduce waste.
• Design complex, multiple layer and multiple opening designs from the front or back
• Place v-grooves around any opening
• Cut any mat design as a reverse bevel
• Easy layout with one-click alignment
• Create custom designs
• Adjust reveals to any width
This item can be picked up in the Iowa area, or shipped for an additional fee by freight & crate company. Shipping is not the $6.50 default on the order page.
JEN-IA-10-20-10
Return to Mat Board Glass Cutting Equipment Main Page #29
We Accept: Visa/MasterCard/Discover/Debit/Certified Check or Money Order
Produced By: A.I.M. Enterprises, Inc. phone: 330-405-9421
(c) Copyright 2011 All rights in all media reserved.
Used Eclipse Pro 40x60 32x40 CMC Mat Cutter, Eclipse Pro Computerized Mat Board Processing Equipment, Pre-Owned Eclipse CMC Mat Cutter for Frame Shops Art Galleries, Picture Framing Equipment for Sale, Framing Tools, Buy Used Framing Frame Shop Equipment Store, Manual, Selling Sell Your Framing Equipment, Buy Used Framing Equipment, Discount Framing Equipment, AIM Enterprises Inc Dealer Distributor Supplier of Used Framing Equipment