Used Framing Equipment: Mat Cutters, Moulding Cutting & Joining Equipment, Mounting Presses, Hand Tools
We buy & sell pre-owned picture framing equipment. We also help you to sell your used framing equipment, and help you save on equipment that you may need. All Items are sold "As Is". Although we strives get obtain the best information from the seller, AIM is not responsible from inaccuracies provided to us by seller. It is the responsibility of the buyer to crosscheck information with seller or manufacturer regarding descriptions that appear in this catalog.
Do you have Questions? Feel free to our office at 330-405-9421, M-F, 10AM-5PM EST or Email us at info@skylinepictures.com
Section 3: Mat Board / Glass Cutting Equipment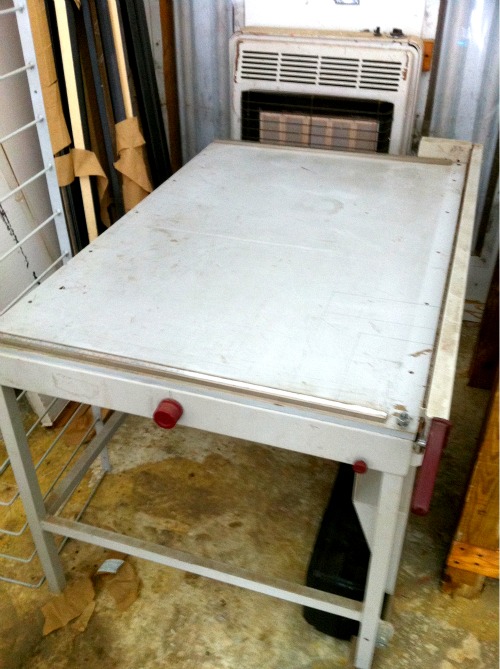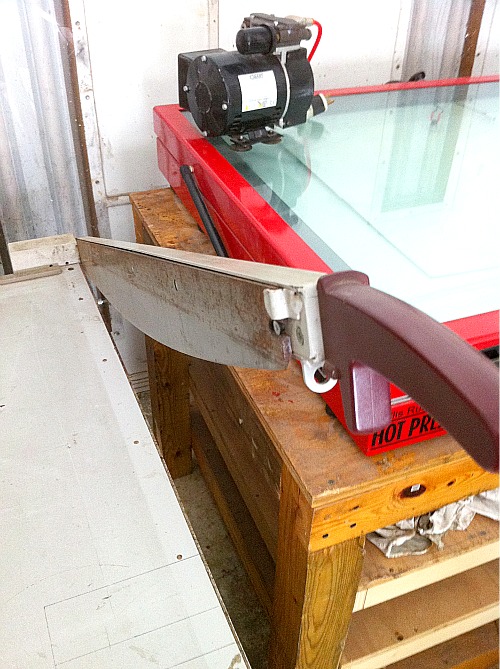 Item # UFE-417 Kutrimmer 1110 Paper Cutter
Commercial Paper / Mat Cutter
***Reduced*** Price: $550
Manufacturer Info: Kutrimmer 1110A is a heavy duty free standing paper trimmer that has a 20 sheet capacity and a 43 3/4" cutting length. The overall table size for the Kutrimmer 1110 is 44" x 30 3/8 ". The Kutrimmer 1110 has a foot pedal operated clamp, lockable back gauge, precision side guides, all metal construction and a clear safety guard to protect the operator by covering the blade in any position. The Kutrimmer 1110 has a special wide-angle blade cuts heavy materials such as matteboard, plastic, and metal foils. The Kutrimmer 1110 cutter also has a front gauge that is adjustable using a calibrated rotary knob with fine adjustment scale, lockable in every position. The Kutrimmer 1110 Paper Cutter also includes a narrow strip cutting device and a fold down extension table for cutting large jobs .
Product Weight: 182 lbs

This unit is in working condition .. model here may be slightly different than what appears on manufacturers website, as this is a older model. Call 216-663-7400 if you have questions or need more info.
This item can be picked up in Georgia or shipped for an additional fee by common carrier. Shipping is not the $6.50 default on the order page.
Beth-GA-2-11-11 $600 / 2-2-12 $550
Return to Mat Board Glass Cutting Equipment page #70
We Accept: Visa/MasterCard/Discover/Debit/Certified Check or Money Order
Produced By: A.I.M. Enterprises, Inc. phone: 330-405-9421
(c) Copyright 2012 All rights in all media reserved.
Used Kutrimmer 1110 Paper Mat Cutter 33x40, Craigslist Kuttrimmer 1110A Table Top Paper Matte Mat Cutter 44x30, Dahle Lever Style Guillotine Cutter Cutters, Kutrimmer Kuttrimer kuttrimmer Large Table Top Paper Mat Cutter 33x40, Used Picture Framing Equipment Parts Part for Sale, Used Picture Framing Equipment Parts for Sale, Pre-Owned Kutrimmer Table Top Paper Mat Cutter for Frame Shops Art Galleries Institutional Commercial Educational Classroom School, Framing Tools, Buy Used Framing Frame Shop Equipment Store, Selling Sell Your Framing Equipment, Buy Used Framing Equipment, Discount Framing Equipment, AIM Enterprises Inc Dealer Distributor Supplier of Used Framing Equipment Mat Cutter Manual, Buy Used Framing Frame Shop Equipment Store, Selling Sell Your Framing Equipment, Buy Used Framing Equipment, Discount Framing Equipment, AIM Enterprises Inc Dealer Distributor Supplier of Used Framing Equipment