Used Framing Equipment: Mat Cutters, Moulding Cutting & Joining Equipment, Mounting Presses, Hand Tools
We buy & Sell pre-owned picture framing equipment. We will help you sell your used framing equipment, and help you save on equipment that you may need.
Do you have Questions? Feel free to our office at 330-405-9421, M-F, 10AM-5PM EST or Email us at info@skylinepictures.com
Section 1: Mounting Equipment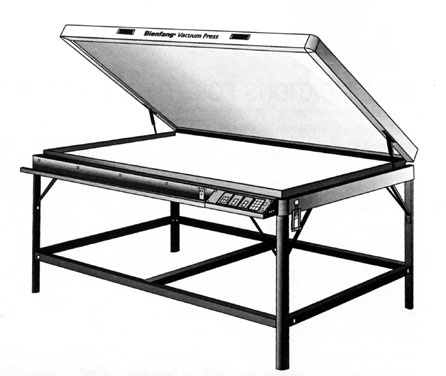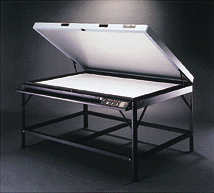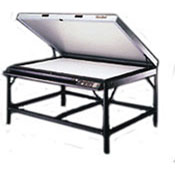 3 above views of same model: Bienfang Model 5298H pulled from various publications for illustration purposes; is representative images for this model
UFE-6 Bienfang Vacuum Press
Model 5298H
Programmable Combination Hot / Cold Vacuum Dry Mount Press
Original owner – purchased in 2000
Programmable
Digital Display
Side Latching Locks
Vent Cloth included
Floor Stand included
Outside dimensions without floor stand: 109 x 65 x 7 inches
Net weight uncrated: 375 lbs
Power requirements: 208-230 V – Single Phase
Plug type: Twist Lock
Left and right heaters operate at 20 degrees above meter reading, central heater at 15 degrees above meter reading
This item can be picked up or shipped for a fee by common carrier. It is not the $6.50 Shipping default amount that appears at checkout.
Return to Mounting Equipment Main Page
We Accept: Visa/MasterCard/Discover/Debit/Certified Check or Money Order
Produced By: A.I.M. Enterprises, Inc. phone: 330-405-9421
(c) Copyright 2011 All rights in all media reserved.
Bienfang Model 5298H Hot Cold Vacuum Press For Sale, Used Pre-Owned Bienfang Model 5298H Vacuum Press, Picture Framing Equipment for Sale, Pre-Owned Vacuum Press for Frame Shops Art Galleries, Used Gallery Frame Shop Mounting Framing Equipment Seal Bienfang 5298 H Combination Hot Cold Vacuum Dry Mount Press, Framing Machinery Tools, Buy Used Framing Frame Shop Equipment Store, Selling Sell Your Framing Equipment, Buy Used Framing Equipment, Discount Framing Equipment, AIM Enterprises Inc Dealer Distributor Supplier of Used Framing Equipment