Used Framing Equipment: Mat Cutters, Moulding Cutting & Joining Equipment, Mounting Presses, Hand Tools
We buy & sell pre-owned picture framing equipment. We also help you to sell your used framing equipment, and help you save on equipment that you may need. All Items are sold "As Is". Although we strives get obtain the best information from the seller, AIM is not responsible from inaccuracies provided to us by seller. It is the responsibility of the buyer to crosscheck information with seller or manufacturer regarding descriptions that appear in this catalog.
Do you have Questions? Feel free to our office at 330-405-9421, M-F, 10AM-5PM EST or Email us at info@skylinepictures.com
Section 1: Mounting Equipment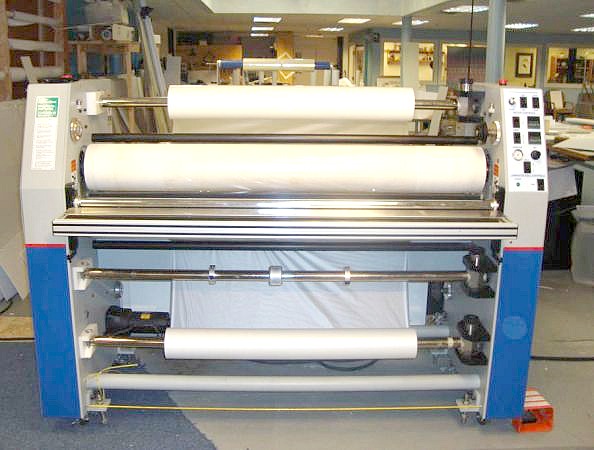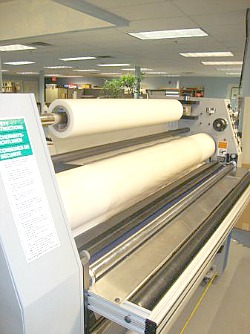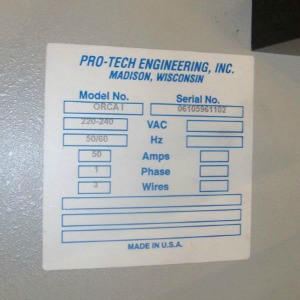 UFE-M1236 ORCA 1 55" Protech Laminator
This unit is in Good Condition.
Runs on 220 volts
Weighs nearly 2,000 lbs.
Includes more than a dozen rolls of laminate and adhesive materials including 3, 5 and 10 mil laminates, Hitachi Koki EC1195A 2.5 HP compressor and Jun-Air model 6-k compressor
From a manufacturer / distributor
GBC Pro-Tech ORCA I is a powerful machine that is designed to mount, laminate and encapsulate.
Specifications:
Model Number: ORCA I 9300000

Serial Number: 06110001471

Year: 2000

Electrical: 220-240 VAC, 50/60 Hz, 55A, single phase 3 wire

Laminating Rolls: 61" (155 cm) roll face with high release surface, upper and lower rolls internally heated

Laminating Opening: 1.5" (3.8 cm) maximum opening

Laminating Material: Uses heat activated and pressure-sensitive materials. 0 - 55" (0 - 140 cm) wide on a 3" (7.6 cm) ID core, 10" (25.4 cm) maximum diameter

Laminating Speeds: 0 to 14 fmp (0 to 4.3 mpm) with variable speed, reversible action, start and stop controlled either through the instrument panel or with the footswitch

Encapsulating Features: Pull rolls and cooling fans for uniform flat cooling

Safety Features:

Photoelectric eyes prevent laminating roll movement if objects are in the nip area

All electrical and moving mechanical parts are located in bolted cabinets

2 emergency stop buttons

2 emergency kick cables

Standard Features: Outfeed Slitters
Price $4,995
This item can be picked up in Massachusetts or shipped for an additional fee by crate & freight company. Shipping is not the $6.50 default on the order page.
Michael/Karen-MA-9-20-12/738
Return to Mounting Equipment Page #74
We Accept: Visa/MasterCard/Discover/Debit/Certified Check or Money Order
Produced By: A.I.M. Enterprises, Inc. phone: 330-405-9421
(c) Copyright 2013 All rights in all media reserved.
ORCA 1 55" Protech Laminator, Buy Used Framing Frame Shop Equipment Store, Selling Sell Your Framing Equipment, Buy Used Framing Equipment, Discount Framing Equipment, Used Framing Frame Shop Equipment for Sale to Buy, AIM Enterprises Inc Dealer Distributor Supplier of Used Framing Equipment