Dealer / Distributor of: Brevetti / Inmes / and Pam Fasteners
New Framing Equipment: Mat Cutters, Moulding Cutting & Joining Equipment, Mounting Presses, Hand Tools
We also buy & sell pre-owned picture framing equipment. We will help you sell your used framing equipment.
Do you have Questions? Feel free to call our office at 330-405-9421, M-F, 10AM-5PM EST or Email us at info@skylinepictures.com
If you are looking for any Brevetti or Imnes Brand not appearing in our catalog, call us for catalog or further information.
Section 2: Frame Moulding Cutting & Joining Equipment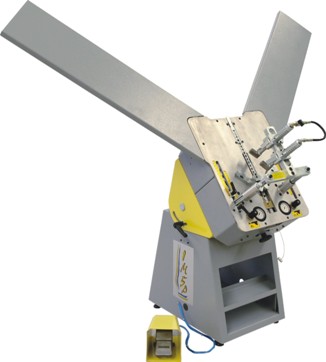 NFE-2 Inmes IM5 PT
The Inmes IM5 PT is the latest generation joiner for the custom frame shop. A high quality joiner developed for joining wood and plastic profiles when producing picture frames, photo frames, and doorframes. The IM-5PT will join molding up to 6' wide and 4 1/4" high. As the nailing block moves from one position to the next, the moulding and fence remain fixed in one position allowing you to join the frame without moving it. This machine allows the control to be set in a position so that multiple fasteners may be stacked.
Features:
Right or left hand joystick controls to fit operator's preference.
Tilt base to hold frame in convenient position for joining
Robust, durable construction
Easy handling with pneumatic activation, offering precision and quality joining with high productivity
It comes with 2-adjustable mechanical clamps (hydraulic optional) and a horizontal clamp, providing a quality finish to the joined product.
It uses original Inmes fasteners "SW" for soft-wood moulding and "HW" for hard-wood moulding
A tool-less elevator system permits changing fastener sizes without plates or spacers.
Specifications:
90 psi Compressed Air is required, no other utilities required.
Fastener sizes are available in 5,7,10,12,15mm
Equipped with pneumatically driven vertical and horizontal clamp to hold frame securely in place.
Dimensions - 18-3/4" wide x 22-3/8" deep by 50-1/2" high
Weight - 150 lbs
Item # NFE-2 Call For Pricing $
330-405-9421, M-F, 10AM-5PM EST
Return to New Frame Moulding Cutting & Joining Equipment
We Accept: Visa/MasterCard/Discover/Debit/Certified Check or Money Order
Produced By: A.I.M. Enterprises, Inc. phone: 330-405-9421
(c) Copyright 2013 All rights in all media reserved.
New Inmes Brand Framing Equipment, Imnes Joiner Inmes IM5 PT, Cassese Joiner IM3P SE VNailer Underpinner Joiner Joining Machine, Pneumatic Air Operated Joiner Joining Tool, Pneumantic Vnailer V-Nailer Underpinner, Craigslist Ebay Framing Equipment for Sale, Instruction Video Manual, ITW AMP Miter Mitre Mite, Pistorius Underpinner Framing Equipment for Frame Shops Art Galleries, Lightweight Pneumatic Framing Tools, Buy New Framing Frame Shop Equipment Store, Selling Sell Your Framing Equipment, AIM Enterprises Inc Dealer Distributor Supplier of Framing Equipment