Dealer / Distributor of: Brevetti / Inmes / and Pam Fasteners
New Framing Equipment: Mat Cutters, Moulding Cutting & Joining Equipment, Mounting Presses, Hand Tools
We also buy & sell pre-owned picture framing equipment. We will help you sell your used framing equipment.
Do you have Questions? Feel free to our office at 330-405-9421, M-F, 10AM-5PM EST or Email us at info@skylinepictures.com
If you are looking for any Brevetti or Imnes Brand not appearing in our catalog, call us for catalog or further information.
Section 2: Frame Moulding Cutting & Joining Equipment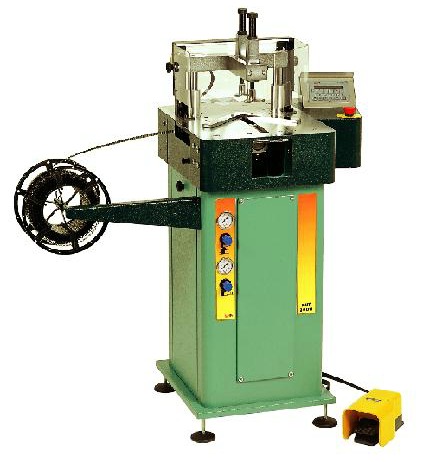 NFE-6 Brevetti AUT-2000 V-nailer
Features:
nailing unit for staples type NR, VR or VM (depending on your needs, intercheangeable)

fixed 90° fence

automatic device to set staples up to 10 different positions (adjustable)

working cycle completely automatic

selectors to set from 1 to 4 staples (one behind the other) in each preset position

safety shield

air-oil filter

possibility to memorize up to 520 working cycles
Specifications:
the ideal machine for the wood worker with medium/large framing productions

nails in coils for long lasting operation without feeding

Universal stapling unit to take and stack both VM staples for soft - medium - hard woods (suitable especially for picture framers) and NR staples for hard woods and MDF (suitable for furniture and door applications)

highly flexible, suits any type of moulding shape - finishing and wood quality

Once the frame is firmly clamped, the sliding head moves automatically for inserting staples in the requested positions

250 programmable positions and stack sequences

35 years of industry knowledge and experience

built to withstand any production rate

Extra adjustable guide and horizontal clamp are available

TECHNICAL INFORMATION
Moulding size (width/height): VC & VM staples - Min 4x5 - Max 120x70mm
Moulding size (width/height): NR & VR staples - Min 5x5 - Max 120x70mm
Staples sizes: Staples sizes:4-6-8-10-12-14-16mm
Air consumption: 40Nl/cycle @ 6bar

OVERALL DIMENSIONS
Height: 70 cm
Width: 65 cm
Depth: 130 cm
Weight: 162 kg
Item # NFE-6 $ Call for Pricing
Phone 330-405-9421, M-F, 10AM-5PM EST
Return to New Frame Moulding Cutting & Joining Equipment
We Accept: Visa/MasterCard/Discover/Debit/Certified Check or Money Order
Produced By: A.I.M. Enterprises, Inc. phone: 330-405-9421
(c) Copyright 2013 All rights in all media reserved.
Brevetti AUT-2000 Vnailer Underpinner, Back Nailer, New Brevetti Brand Framing Equipment Joiner, Brevetti Parts and Service, Brevetti Dealer Distributor Brevetti Breveti Prisma Maxi Saw Saw Blades, Replacement Blades, VNailer Underpinner Joiner Joining Machine, Pneumatic Air Brevetti Italy Operated Joiner Joining Tool, Pneumantic Vnailer V-Nailer Underpinner, Craigslist Ebay Framing Equipment for Sale, Instruction Video Manual, ITW AMP Pistorius Underpinner Framing Equipment for Frame Shops Art Galleries, Buy New Framing Frame Shop Equipment Store, Selling Sell Your Framing Equipment, AIM Enterprises Inc Dealer Distributor Supplier of Framing Equipment