Dealer / Distributor of: Brevetti / Imnes / and Pam Fasteners
New Framing Equipment: Mat Cutters, Moulding Cutting & Joining Equipment, Mounting Presses, Hand Tools
We also buy & sell pre-owned picture framing equipment. We will help you sell your used framing equipment.
Do you have Questions? Feel free to our office at 330-405-9421, M-F, 10AM-5PM EST or Email us at info@skylinepictures.com
If you are looking for any Brevetti or Imnes Brand not appearing in our catalog, call us for catalog or further information.
Section 2: Frame Moulding Cutting & Joining Equipment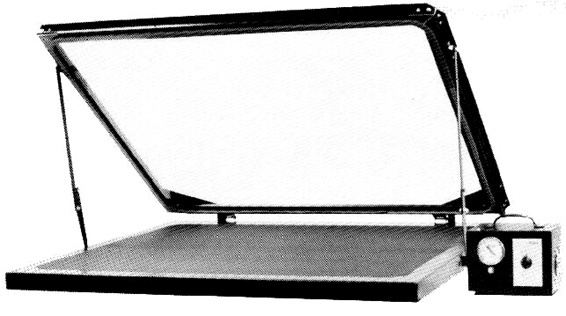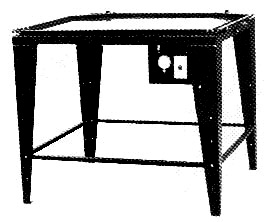 NFE-101 & 102 Frame Square Brand - Cold Vacuum Press
The Frame Square cold mount presses offer precision mounting for less money than competitors.
Using lightweight frame technology and modern materials, our presses take a different approach to cold vacuum mounting. Because the top uses tough clear poly-carbonate instead of glass no gas struts are required to ease the lifting. It's light enough without them. There are no rubber blankets to cut or wear out, because the bottom is made from flexible steel. A tough rubber seal makes sure that a strong vacuum is created even without clamping the top. Combined with the flexible top, this allows for different height substrates to be mounted in the press at the same time.
These presses are available in sizes to mount 32" x 40" or 40" x 60" boards. With the new adhesives available today, you can make precision mounting a simple process for your shop.
Pricing Appears on Main Page
330-405-9421, M-F, 10AM-5PM EST
Return to New Mounting Equipment
We Accept: Visa/MasterCard/Discover/Debit/Certified Check or Money Order
Produced By: A.I.M. Enterprises, Inc. phone: 330-405-9421
(c) Copyright 2012 All rights in all media reserved.
Cold Vacuum Press for Mounting Art to Backing Board Foam Core, Frame Square Industries Brand Hot Cold Vacuum Press, Wet Mount Cold Mount Vacuum Press, Vacuseal Bienfang Print Mount Cold Vacuum Press for Framing Equipment for Frame Shops Art Galleries, Information on How to Use a cold mount Vacuum Press, Directions to Use a Hot Mount Press, Vacuum Press Repair Center, Buy New Framing Frame Shop Equipment Store, Website to Sell Selling List Your Framing Equipment, AIM Enterprises Inc Dealer Distributor Supplier of Framing Equipment