Portland Oregon Panoramic City Skyline, Landmarks Prints, Photography, Posters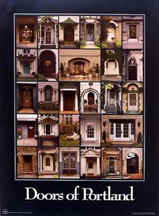 Item # POR-1 $25
Doors of Portland
Open Edition Poster Print
Doorways of Portland, Oregon
Photo: DCP
Size: 22 x 30"
OR1
(Regular Price $30)

*Special This Month!*Item # POR-2 $25

Portland, Oregon

Portland Panoramic Evening Skyline

Picture caption describes city in view ... click on full image or see below for complete caption.

Open Edition Panoramic Print

Photo: JB

Size: 13.5 x 40"

WPORT1B
Item # POR-3 Price $20

Brandon Roy

Portland Trailblazers Basketball Player

Position: Guard Jersey: #7

NBA Basketball Poster

Licensed NBA Team Player Poster Print

Size: 22x34"

T4413
Item #POR-2 Poster Caption: This panoramic photograph of Portland ... features a dazzling twilight view of downtown Portland looking across the Willamette River. The tallest building on the left is Wells Fargo Center. The next tallest, standing alone to the right, is US Bancorp Tower. On the far right, with twin glass towers, is the Oregon Convention Center. Just left of that, with its brightly lit roof, is The Rose Garden, which serves as home to the Portland Trail Blazers basketball team. The two major bridges crossing the river are Morrison Bridge on the left and Burnside Bridge on the right. The festivities along the waterfront are Fleet Week, part of Portland's annual Rose Festival. Portland is known for its leadership in rose culture, and is titled "city of roses."
We Accept: Visa/MasterCard/Discover/Debit/Certified Check or Money Order
Produced By: A.I.M. Enterprises, Inc. iPhone: 330-405-9421
© Copyright 2018 All rights in all media reserved.
Portland Panoramic Skyline Photo Poster Prints, Doors of Portland Oregon Poster Prints, Portland Oregon OR City Panorama Skyline Picture Posters Photography, Portland Downtown City Landmark Stock Photography Images Pictures Photos, The Rose Garden Home of the Portland Trailblazers Basketball Team, Doors of Portland Oregon Picture, Skyline Pictures Portland Oregon, City Landmark Pictures Photos Portland Oregon, Willamette River, Wells Fargo Center, US Bancorp Tower, Oregon Convention Center Photos, Morrison Burnside Bridge, Fleet Week, Portland Annual Rose Festival, City of Roses Pictures, Portland Oregon Convention Visitor Bureau Tourist Tourism Info Information Gifts Present Souvenir Shop Store, Brandon Roy Basketball Poster Posters Prints, NBA Portland Trailblazers Pictures Photo Artwork Print Prints Information Info, Brandon Brandan Roy Portland Trailblazers Basketball Art Artwork Picture Gifts Memorabilia Collectibles Team Shop Holiday Gift Ideas Store Special Unique Fan Gifts Present, Sports Bar Game Room Restaurant Wall Decor Pictures Images Stock Photography Murals Decorating Ideas Decorating, Panoramas Worldwide Photography, Huebner Photographer, Portland Doors Art Artwork Print