Dealer / Distributor of: Textile Machines
New Framing Equipment: Fine Art Display Racks and Print Bins
.We also buy & sell pre-owned picture framing equipment. We will help you sell your used framing equipment
Do you have Questions? Feel free to call our office at 330-405-9421, M-F, 10AM-5PM EST or Email us at info@skylinepictures.com
Section 9: Textile Machines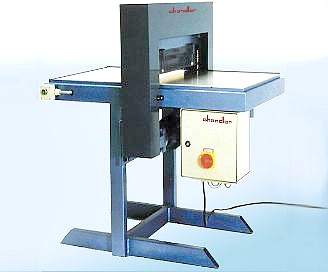 T-1 Chandler CM-5000 Swatch Cutter
Base: 38" x 24"
• Height: 33"
• Weight: 28 lbs.
• Wheels included
• Colors: gray, granite, black, or white
• Holds up to 32" x 43" print protectors
Price $17,995
Features:
Easier, Faster Operation compared
to manual Swatch Cutters.
Low current consumption
Quiet operation
110 vac
Safety feature:
Two Handed Switch operation
keeps fingers safe.
Easier, faster
(220 vac available)
Baked blue enamel paint
Comes standard with pink blade
(extra #1, #7 pink & straight blades
optionally available)
Capable of cutting paper, plastic materials, rubber, leather.
If a scissor
can cut it, you can cut a stack with
the CM-5000 and CM-6000.
Optional pressing adapter available
to use die-cutting dies.
(Custom forged steel die cutting dies
can be special ordered)
Specifications:
Model: CM-5000 CM-6000

Knife: 19.68" 23.62" (50 cm) (60 cm)
Weight: 363 lb 429 lbs 165 kg 195 kg
Max. Cut Thickness: 1-3/8" ( 3 cm) 3
Length: 45¼" 39 /8" (1150mm) (1000mm)
Width: 33½" 29½" (850mm) (750mm)
Height: 44" 44" (1115mm) (1115mm)
CMC-2-25-14/1172
330-405-9421, M-F, 10AM-5PM EST
We Accept: Visa/MasterCard/Discover/Debit/Certified Check or Money Order
Produced By: A.I.M. Enterprises, Inc. Phone: 330-405-9421
(c) Copyright 2014 All rights in all media reserved.
Chandler CM-5000 Swatch Cutter Cutting Machine, Swatch Cutting Machines, Chandler CM-6000 CM-2000, Commercial Swatch Cutters Gallery Frame Shop Swatch Plastic Rubber Foam Board Cutter, AIM Enterprises Inc Dealer Distributor Supplier of Framing Equipment, Buy New Framing Frame Shop Equipment Store, Selling Sell Your Framing Equipment, AIM Enterprises Inc Dealer Distributor Supplier of Framing Equipment AIM Enterprises Inc Dealer Distributor Supplier of Used Framing Equipment Buy Used Framing Frame Shop Equipment Store, Selling Sell Your Framing Equipment, AIM Enterprises Inc Dealer Distributor Supplier of Used Framing Equipment Phone 330-405-9421