Dealer / Distributor of: Textile Machines
New Framing Equipment: Fine Art Display Racks and Print Bins
.We also buy & sell pre-owned picture framing equipment. We will help you sell your used framing equipment
Do you have Questions? Feel free to call our office at 330-405-9421, M-F, 10AM-5PM EST or Email us at info@skylinepictures.com
Section 9: Textile Machines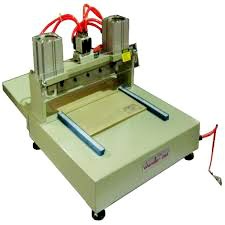 T-2 Chandler CM-1200A Swatch Cutter
Properly cut sample swatches are an attractive and ravel-resistant sales aid.
"A neat and accurately cut sample swatch may be your best salesman."
The CM1200A is a high volume, pneumatic swatch cutter designed
to cut all types of fabrics.
Features:
Fast and easy to operate
Far superior operation
compared to manual
swatch cutters
Conveniently mounted on
any table top
Low current consumption
Two air cylinders for maximum
cutting strength
Maximum air pressure: 100 psi
Convenient ruled-out work area
2" Knife height lets you cut big stacks
Easily cuts 12 inches (30cm) width material
Runs on 110 vac power.
Safety Features Include:
Anti tie down relays
Two button operation to keep hands away from blade
Plexi-glass hand and eye guard
Dimensions: 36 x 24" x 16" (91.5 x 61 x 40.6 cm)
Price $3,950
CMC-2-25-14/1172
330-405-9421, M-F, 10AM-5PM EST
We Accept: Visa/MasterCard/Discover/Debit/Certified Check or Money Order
Produced By: A.I.M. Enterprises, Inc. Phone: 330-405-9421
(c) Copyright 2014 All rights in all media reserved.
Chandler CM-1200A Swatch Cutter Cutting Machine, Swatch Cutting Machines, Chandler CM-6000 CM-2000, Commercial Swatch Cutters Gallery Frame Shop Swatch Plastic Rubber Foam Board Cutter, AIM Enterprises Inc Dealer Distributor Supplier of Framing Equipment, Buy New Framing Frame Shop Equipment Store, Selling Sell Your Framing Equipment, AIM Enterprises Inc Dealer Distributor Supplier of Framing Equipment AIM Enterprises Inc Dealer Distributor Supplier of Used Framing Equipment Buy Used Framing Frame Shop Equipment Store, Selling Sell Your Framing Equipment, AIM Enterprises Inc Dealer Distributor Supplier of Used Framing Equipment Phone 330-405-9421