Used Framing Equipment: Tool Sharpening / Metal Working Equipment
We buy & sell pre-owned picture framing equipment. We also help you to sell your used framing equipment, and help you save on equipment that you may need. All Items are sold "As Is". Although we strive to obtain the best information from the seller, AIM is not responsible for inaccuracies provided to us by seller. It is the responsibility of the buyer to crosscheck information with seller or manufacturer regarding descriptions that appear in this catalog.
Do you have Questions? Feel free to our office at 330-405-9421, M-F, 10AM-5PM EST or Email us at info@skylinepictures.com
Section 2: Tool Sharpening / Metal Working Equipment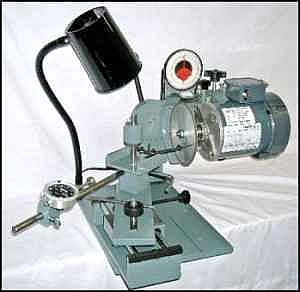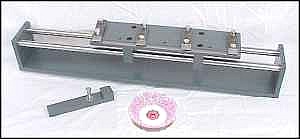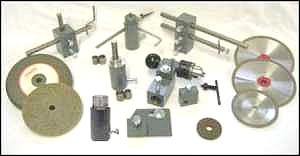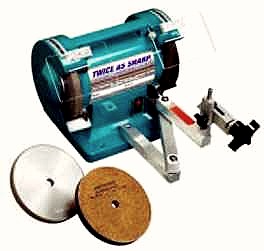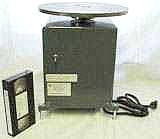 UFE-S101 Thorvie AV-40 Saw / Tool Sharpening System
This Saw Sharpening tool set is in Good Condition.
Complete shop with tools.
(Replacement Value $20,000)
Price $ 6,495
From the seller : "a complete sharpening business for someone who either wants to make great full time or part time income. Included in the business are a new Thorvie AV40 machine with attachments: http://thorvie.com/saw_sharpening_grinding_package.html, another AV40 machine, Foley SF1000 Saw Filer, Foley SR1000 Saw Setter, Foley SS1000 Retoother, Foley Scissor Sharpener , Foley 1055 Sharp-All, Foley 359 Trip Setter, re-tipping fixture and supplies, diamond wheels, files, wheel dressers, grinding wheels and much, much more. You can start making money NOW and if you need the extra cash this is great money with little investment. Training manuals and video tapes are included with the sale. Sold separately this shop would cost over $20,000."
From the manufacturer:
The AV-40 is a universal grinder that will sharpen saw blades ranging from 1-7/8" to 30" diameter, plus it will sharpen many different cutting tools such as raised panel cutters and profile cutters, anti-kick back router bit and shaper cutters without motor interference; something few saw blade grinders can offer.
This carbide and steel saw and tool grinder has a diameter capacity from 1-7/8" to 30". It allows you to face, top and side grind. The AV-40 is one of the fastest grinders to set up and easy to use. When changing from face to top grinding, and from one diameter to the next, just loosen a lever and rotate an arm. This machine will save you 25% of the set up time over other grinders, AND is less costly! Attachments included in the package also allow you to grind router bits; planer knives, shaper cutters, and a whole lot more. Sharpen the anti-kickback router bits and other various styles of cutters.
This item can be picked up in Connecticut or shipped for an additional fee by UPS. Shipping is not the $6.50 default on the order page.
Jon-CT-11-23-11
Return to Tool Sharpening and Metal Working Equipment
We Accept: Visa/MasterCard/Discover/Debit/Certified Check or Money Order
Produced By: A.I.M. Enterprises, Inc. phone: 330-405-9421
(c) Copyright 2013 All rights in all media reserved.
Used Thorvie AV-40 Tool and Saw Sharpening System, Tool Saw Sharpening Tool Grinding Equipment, Craigslist Ebay Used Thorvie AV-40 Tool and Saw Sharpening System, Tool Sharpening Equipment Grinder Sharpening to sharpen router bits, spiral planers, Foley adjustable dados, Foley jointer and planer knives, Foley wood chisels, hole saws, shaper cutters, stump grinder bits, Used Tool Grinders Grinding Equipment, Saw Sharpening Equipment, Saw & tool sharpening equipment, carbide grinders, saw & tool grinders, tool sharpening grinders, Stump Bit Grinders, scissors sharpeners, knife sharpeners, clipper blade hones, sharpening dados, router bits, ice augers, steel saw blades, carbide saw blades, shaper cutters, Selling Sell Your Framing Equipment, Saw & tool sharpening equipment, saw & tool sharpening machines, saw & tool grinders, Sharpening equipment, Chain saw sharpeners, Clipper blade hones, Ice augers sharpener, tool sharpening fixtures and machines, tool sharpening grinders, fixtures for Foley Belsaw sharpeners, Industrial Goods and Services, Machinery and Tools, Cutting and Machining, Cutting Machinery, Foley-Belsaw Sharpening Supplies, AIM Enterprises Inc Dealer Distributor Supplier of Machinery Equipment